Dorset students hold 'peaceful' fees protest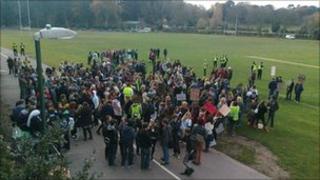 More than 300 students in Dorset have taken part in a "peaceful" protest against raising tuition fees.
Sixth formers from several schools and colleges, including St Peter's and Brockenhurst College, Hampshire, joined Bournemouth University students.
The group marched from Bournemouth's Merrick Park to the town hall.
Student protests were held throughout the UK, with police in London containing thousands on students after some clashes in the city centre.
The Dorset protest got under way at 1100 GMT.
Earning capacity
Protest organiser Jake Dean, a sixth form student at St Peter's School, told BBC News: "It is a peaceful student protest against the rise in tuition fees.
"I am hoping to study business at either Bournemouth or Cardiff University. I am not sure I would be able to afford a hike in fees."
Sixth form students from Twynham School in Christchurch, also took part in the protest.
The school's headteacher Terry Smith told BBC News: "They have been told that getting a degree is important if you want to get on in life; that you will earn more over your lifetime, if you go to university.
"[Then] suddenly they are being told, well you may have to pay £9,000 a year, instead of £3,000 a year."
Dorset Police said it had "received written notification in accordance with the Public Order Act" of the demonstration.