Bournemouth memorial wall honours Aids dead in Dorset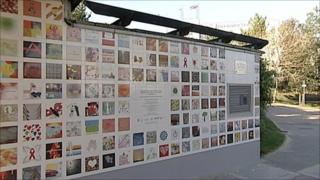 Seventy-year-old Andrew Armstrong knows he is one of the fortunate ones.
Diagnosed as HIV-positive during the height of the Aids scare more than 20 years ago, unlike many of his friends Mr Armstrong is a long-term survivor.
And now, to ensure those who have lost their lives to the disease in Dorset are never forgotten, a memorial wall has been unveiled on World Aids Day.
Made up of 400 tiles - each one representing a life lost to Aids in the county - the charity-led community art project covers a once-drab looking wall of a flyover close to Bournemouth's seafront.
For Mr Armstrong, himself an artist, the tribute is a dream of many years that has finally become a reality.
But, as more new cases of HIV are diagnosed, it is also the start of a new campaign to educate others.
'Total denial'
Body Positive Dorset, an organisation which supports 500 people aged from as young as 12 living with the illness, said Bournemouth had the fourth highest prevalence rate for HIV in the UK outside London.
With about 40 new diagnoses each year, more than 600 people across the county live with HIV or Aids.
Last year, 58% of diagnoses in Dorset were of heterosexual non-injecting drug users.
Health advisers believe many people are living with HIV in the county but have not been tested and are unaware they have the virus.
"I'm one of the fortunate ones who was able to access cutting-edge medication even before it became generally available and I think I have that to thank for the fact that I'm still here," Mr Armstrong explained.
"My feeling is the gay community is very much aware of the fact that it's out there, although they are not necessarily taking all of the precautions that I think they should be.
"As far as the straight community is concerned, they seem to be in total denial and don't realise that it can affect them."
Overcoming stigma
Mr Armstrong believes that it took being diagnosed to help him find out who he was, and admits that overseeing the memorial wall project has made his life worthwhile.
When he returned to the UK from San Francisco in 1999 he set up the charity DAMSET - Dorset Aids Memorial Schools Education Trust - which encourages awareness through art and is responsible for the project.
"One of my principal tenets in life is to turn the negative into the positive, that's how I came to initiate this project and I'm over the moon that it's just about to be inaugurated."
When he was diagnosed, Mr Armstrong was put on a $30,000-a-year (£19,000) drugs treatment trial by a San Francisco charity which, although it saved his life, brought many unpleasant side-effects.
He still takes medication to help control the virus, but Mr Armstrong has been told by his consultant that he will die of old age.
"I really am a case in point because I have been positive for more years than I can say but I am amazed still to be here.
"I do suffer from the aches and pains and the problems that people get as they get older, but none of them are HIV-related."
And as people begin to stop and look at the wall, Mr Armstrong is hopeful it will act as a talking point to help overcome the stigma still associated with the disease.
"At the time, I realised that even in predominately rural Dorset, which almost has a bucolic feel about it, people were dying in very large numbers and nothing seemed to be done about education.
"It's just so rewarding to see that people are stopping to look at it, to talk about it and they are going to tell other people about it, I know they are, and that's what it's all about."