Poole council may offer chance to buy burial plot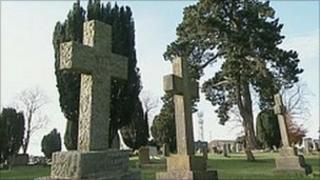 A council is considering offering residents the chance to buy their own burial plot to help fund a new public cemetery.
The Borough of Poole says the idea is an option being "investigated" to tackle the problem of public cemeteries running out of space.
It is also reopening two cemeteries that were closed to burials in the 1980s to cope with demand.
The cost of a burial plot in Poole is now £600 compared with £390 in 2006.
Clive Smith, Poole's head of leisure services, told BBC Politics Show South: "People like to be able to book in advance, it would help us with the cash flow - get it running.
"It is quite expensive to buy the exclusive rights for a plot of land and be buried in it."
Mr Smith said it would cost "several hundred pounds", adding, "but if we can put it up a bit so that we are still comparable with other authorities it would help us provide a better cemetery and quicker."
'Extremely limited'
Space at the two remaining cemeteries, Broadstone and Parkstone, has been described as "extremely limited" and will run out within a year.
Reopening Poole and Branksome cemeteries is expected to provide burial space for another five years, during which time a new cemetery can be created on council-owned land at Canford Magna.
The authority was also considering using space above existing graves or moving remains but this longer-term option has since been dropped.
Poole is not the only council looking at ways to tackle the rising cost of running cemeteries.
Councillor David Milsted, from North Dorset District Council, said: "[Local authorities] don't have any options they either have to put up the burial charges or put up their local part of the council tax, or both."