Views sought on Weymouth and Portland spiral sculpture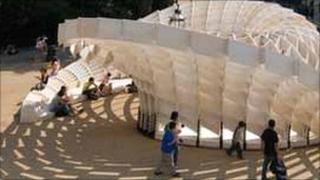 Weymouth and Portland residents are being invited to say where they think a new spiral sculpture should be located in time for the 2012 Olympic Games.
The "Swoosh Pavilion", comprising a pair of interlocking spirals which form a three-dimensional jigsaw, was donated by the Architectural Association.
The structure, which is 15m (49ft) in width and length and 4.5m (15ft) in height, acts as a bench and tunnel.
An exhibition will be held at Weymouth Library from 6-10 December.
The locations suggested include Portland Bill, Furzy Cliff, the Bincombe Bend and the Swannery.
The sculpture was designed and constructed by students from the association.
Councillor Howard Legg said: "I would like to encourage residents to view the design of the sculpture and take part in the consultation.
"This is one really unique way of capturing the Olympic spirit and will create a lasting memory for residents and visitors in one of the most important years in the borough's modern history."