Father builds ice rink in his Bournemouth garden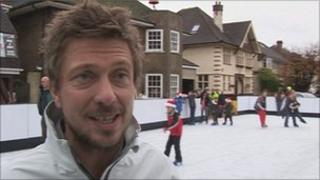 A Dorset father has installed an ice rink in his front garden to raise money for the RNLI.
Greig Howe, 37, of Bournemouth, enlisted the help of neighbours, friends and local businesses to create the attraction for one weekend.
Mr Howe said anyone is welcome to use the rink in Carberry Avenue, where he is collecting donations for the RNLI.
He is now searching for a new venue for the attraction so residents can continue enjoying it.
Mr Howe said: "We thought it would be funny and a challenge to build an ice rink here - it's been lots of fun.
"We called around lots of businesses to get a chiller, a generator, flooring and all the things we needed.
"It was a fun conversation when I knocked on my neighbour's door and said 'can I knock your wall down to build an ice rink?'"
"It seems really sad that we will have to take it down. All the neighbours have been incredibly supportive but we need to find another venue to put it for Christmas."
Tree in roof
The rink is due to close at 2200 GMT, but it is not the only festive attraction at Mr Howe's home.
The father-of-three has also installed a 25ft (8m) upside-down tree in his house with the plant pot sticking out of the roof.
The top of the tree, complete with a star on top, is suspended 4ft (1.2m) from his living room floor.
In previous years Mr Howe installed even larger trees through his six-bedroom home, cutting the tree into sections to give the illusion that it is growing through the building.
This year, however, the family has cut a hole in the ceiling to accommodate the tree, meaning some repairs will be necessary at the end of the festive season.