Pizza Hut apologises to AFC Bournemouth over bill row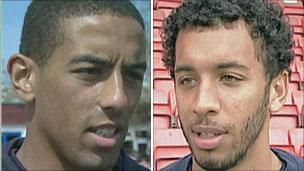 Pizza Hut has apologised to a group of black League One footballers who claim they were racially discriminated against at a restaurant.
The five AFC Bournemouth players said they were told they would have to pay for their meal before being served.
Pizza Hut, which has started an investigation, apologised but said the actions were not racially motivated.
It said there had been cases where customers had left without paying and they were following police advice.
The five footballers, including Anton Robinson, Liam Feeney and Marvin Bartley, were at the chain's Castle Lane West restaurant in Bournemouth on Thursday afternoon after a training session had been cancelled.
One of them said they were asked by the manager to pay upfront, but a group of white teenagers who entered the restaurant later were not.
A spokesman for Pizza Hut said police had recommended that the restaurant should start asking customers to pay for their meals before dining.
"We do not tolerate any form of discrimination, so immediately investigated this incident," a spokesman said in a statement.
"While our duty manager's actions were absolutely not racially motivated, we are very sorry for the way this was handled.
"Unfortunately, it seems this approach was not enforced as a blanket policy and we have ensured all staff have been retrained. We will be contacting the customers concerned to apologise."
In a statement, club chairman Eddie Mitchell said: "We were all highly disappointed to hear about the treatment a number of players received on a recent visit to Pizza Hut.
"Our players are magnificent ambassadors to AFC Bournemouth, their behaviour is exemplary and they are a credit to the club.
"In this day and age, it is upsetting to hear that people are treated differently because of the colour of their skin and at AFC Bournemouth, we will not condone any treatment of people in such a way."
Police were called after the footballers were not happy that they had been asked to leave.
A Dorset Police spokesman added: "Police received a call from a male member of staff. He reported that he was about to ask disruptive customers to leave.
"An officer attended and five men - who were not happy about being asked to leave by the manager - left the premises.
"No complaints have been made to police."
Related Internet Links
The BBC is not responsible for the content of external sites.