Poole father killed son and himself after love split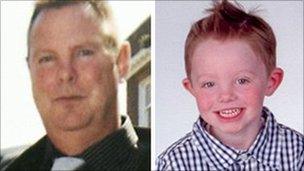 A father killed his son before taking his own life after splitting from the boy's mother, an inquest has heard.
Chris Hall gave his son, also called Chris, six, an overdose of painkillers at their home in Poole on 18 August before taking an overdose himself.
He had warned his ex-partner she would never see their son again two days before they were found dead, the hearing heard.
The inquest ruled Mr Hall had taken his own life and unlawfully killed his son.
Former cemetery worker Mr Hall, 53, had found out in the days before that his estranged girlfriend, Rachel Wild, had started a relationship with another man.
Ms Wild told the hearing in Bournemouth that the split four months earlier was difficult with the police and courts involved over custody of the child.
Ms Wild, 38, said she had dropped off her son, known as Little Chris, at Mr Hall's home in Queen's Road, Parkstone, on 16 August with her new boyfriend.
"He [Mr Hall] stormed over, opened Little Chris's door and dragged him out and started shouting abuse," she said.
"He said, 'You have been sleeping with this man. You have been having sex in front of Little Chris' - all sorts of things. His face was just anger.
"He said, 'You will never see Little Chris again. I will make sure of it'."
Ms Wild said she then went to the house two days later to pick up her son as arranged.
She saw the door had been left open but left before going inside because "it felt eerie".
She went to her brother's and the police were called. She was later told the two had been found dead by officers.
She explained the family had struggled for money after a gardening business Mr Hall set up failed to bring in enough money.
The couple then set up a cafe in Poole but Mr Hall did nothing to help out while all the money went to him, Ms Wild said.
Mr Hall's brother Jemaur Tayle, 50, from London, told the hearing his brother had a difficult childhood and a bad relationship with his father and had attempted suicide three times in the past.
Deputy Bournemouth coroner Stephen Nicholls said: "It's been a very tragic set of circumstances. My sympathies go out to both sets of family and friends."
Related Internet Links
The BBC is not responsible for the content of external sites.