Dorset Police animations spread alcohol danger message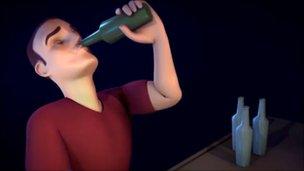 Dorset Police has released animations warning partygoers of the dangers of drinking too much alcohol.
It wants to prevent an increase in drink-related violence during the new year celebrations and is aiming the films at 18 to 30-year-olds.
The release of the videos coincides with an increase in police officers on patrol over the holidays.
Insp Peter Meteau, based at Weymouth police station, said: "The most unfortunate thing I see is young men, who have never been in trouble before, who have drunk to excess and ended up in a fight.
"Drinking too much alcohol impairs your judgement. This could cause you problems with the law or your health if you get into a fight. Walk away from trouble."
Sgt Anna Harvey, who has policed Bournemouth for nine years, warned that women who were drunk were more likely to become victims of crime.
"You might risk your own safety by becoming separated from friends or trusting a stranger," she said.
"You can keep yourself safe by sticking with your friends and planning your journey home in advance.
"This includes booking a registered taxi, keeping money aside for the journey home and making sure your mobile phone is charged up and has credit."
The videos are funded by Dorset Police and Dorset Community Safety Partnership.
Related Internet Links
The BBC is not responsible for the content of external sites.