Lapland New Forest's 'magical tunnel had no lights'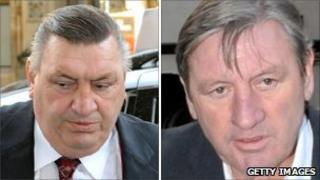 A Trading Standards officer who visited the Lapland New Forest attraction following complaints told a jury there were no lights in the "magical tunnel".
Christopher Legg said the "Magical Tunnel of Light" had been advertised in newspapers and on the firm's website.
A customer said his family waited two hours to see Father Christmas only to be told the best presents had already been taken.
Brothers Victor and Henry Mears, from Brighton, deny misleading customers.
Mr Legg said that the first he heard about the park at Matchams Leisure Park on the Hampshire-Dorset border was on Monday, 1 December 2008 when he came into the office to find a number of complaints from customers.
Park closed
One of those was from John Coombes from Havant, Hampshire, who also gave evidence at the trial at Bristol Crown Court.
Mr Coombes said he had taken his wife and two grandchildren to the park on the Sunday.
After queuing for two hours for them to meet Father Christmas a member of staff dressed as an elf informed them that all the best presents had gone.
The park closed days after opening following hundreds of complaints.
Victor Mears, 67, of Selsfield Drive, and Henry Mears, 60, of Coombe Road, both of Brighton, deny five charges of engaging in a commercial practice which is a misleading action and three charges of engaging in a commercial practice which is a misleading omission.
The court earlier heard the Mears brothers may have made more than £1m.
With visitors paying £30 a ticket and with up to 10,000 advance bookings online, the brothers were set to make £1.2m, prosecutor Malcolm Gibney said.
He told the jury that, following complaints, Mr Lake and a fellow trading standards officers visited the park and were concerned with what they found.
The court also heard that Victor Mears, the company's sole director, was being assisted by his younger brother, who was managing the attraction and was responsible for its promotion.
The company behind the theme park, Lapland Newforest Ltd, went into liquidation, jurors heard.
The trial continues.