Bournemouth Waterfront Imax building set to be lowered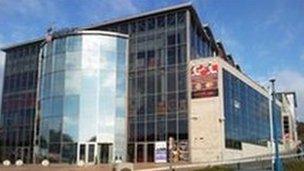 Councillors have voted to reduce the height of a waterfront building in Dorset to improve sea views.
The authority plans to lower the building in Bournemouth, which houses restaurants and a former Imax cinema, to "soften its appearance".
The interim measure is expected to cost between £1.5m and £2m.
Plans for a permanent attraction on the site have been put on hold until market conditions improve.
If planning permission is granted, work could begin in spring 2011, Bournemouth Borough Council said.
Council leader Peter Charon said it was the public's "number one wish" to see the height of the building reduced.
He said the interim scheme would allow time for the markets to stabilise and the leisure sector to recover.
Suggestions for the site have included a water park or arts centre.
The Imax cinema opened in 2002 but closed three years later after problems. Only three restaurants still operate inside.
The building has been called an "eyesore" by critics. It currently blocks the view of the coast from Bath Road.
Related Internet Links
The BBC is not responsible for the content of external sites.