'Refinement plan' for Boscombe surf reef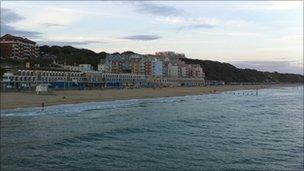 Improvements to Europe's first artificial surf reef could be complete by spring 2011 after an agreement was struck with the company that built it.
The reef, which was built to enhance waves off Boscombe in Dorset, has been criticised for not working properly.
Bournemouth Borough Council said it agreed a "refinement plan" with ASR Ltd to extend the ride length of the waves.
The council will pay £55,000 when the work is finished and a further £95,000 if the improvements are successful.
The council had been withholding £150,000 from ASR after a specialist report found the reef, which cost £3m, had not achieved all of its objectives.
Council leader Peter Charon said: "Everyone is agreed that ASR's technical refinements are the best solution.
"Although these are innovative and complex works, working with ASR, the likelihood of both performance improvements and a greater return on the council's £3m investment in the reef are a significant step closer.
"After detailed and lengthy negotiations, I am satisfied that the financial agreement reached represents a pragmatic approach."
The reef, which ran over budget and suffered a series of delays, was created to improve surfing conditions using 55 giant sand-filled bags which are 225m (740ft) out at sea.
The bags are sausage-shaped and range in length from 50ft (15m) to 230ft (70m).
The New Zealand-based creator denied the reef failed and said it was only one of the criteria, the wave lengths, which it had not met.
Related Internet Links
The BBC is not responsible for the content of external sites.