Portland may get high-speed cross-channel ferry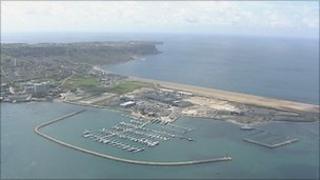 A new company has revealed plans to launch a ferry service from Portland in Dorset, to Cherbourg in France.
HighSpeedFerries said it is exploring options for a high-speed, cross-channel passenger and car ferry which could complete the crossing in two hours.
The company said the service would not be in competition with Condor's Channel Island services from nearby Weymouth.
Director Jonathan Packer said the plans were "an exciting development" for the region.
Mr Packer said: "HighSpeedFerries could get you direct to France in two hours, with a service running two or three times a day in season.
"These are early days, but this could be a very exciting development for the South West as a whole. It would considerably reduce through journey times and road distances for our target markets as compared to the Dover-Calais crossing."
The company said it had already spoken to Weymouth and Portland Borough Council about the plan. It is also consulting with Dorset County Council as well as the Port of Cherbourg and the Normandy Ports Authority.