Dorset travel warning after heavy snow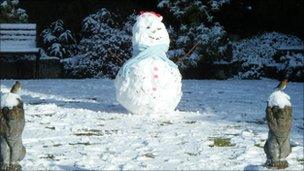 Heavy snow has fallen across Dorset and motorists are being advised not to take to the roads unless they have to.
Bournemouth Airport is shut until at least 2100 GMT and more heavy snowfall is due later across southern England.
Gritters are continuing to treat major routes, but minor ones are not being gritted so "extreme care" should be taken, police advised.
South West Trains is running revised services but plans to return to normal on Sunday, weather permitting.
Dorset County Council said it had sent out its salting fleet to treat its 680-mile (1,094km) "winter network".
It said the gritting of a number of "community links" connecting villages had also taken place.
Earlier, Paul Chaundy, from Blandford Forum, said the heavy snow was not going to stop his sister getting married.
He told the BBC: "We've been affected by the snow big time. Today is my sister's wedding day.
"We invited 130 guests initially but only 30 people have confirmed that they will be able to attend.
"My sister was on on the brink of cancelling because the snow meant they and their guests would never make it to the remote church.
"But their day has been saved by 4x4s which will be used to transport the 30 confirmed guests to the service.
"The day must go on and the hunt for more 4x4s is on. A white wedding - it will be a great day."
Related Internet Links
The BBC is not responsible for the content of external sites.