Boscombe surf reef lifeguards on Christmas patrol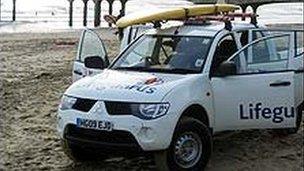 Some of the RNLI's only year-round lifeguards are spending their second Christmas period on patrol at Europe's first artificial surf reef in Dorset.
Two lifeguards will provide cover at Boscombe beach throughout the festive season, including Christmas Day and the new year.
Last year, 12,500 people visited Boscombe beach during the festive period.
Bournemouth Borough Council is funding the 365-day-a-year patrol.
John Simmons, 28, and Justin White, 24, are the lifeguards due to be on duty at Boscombe beach.
Mr Simmonds said: "When you say you'll be working on the beach this Christmas, people have images of Bondi in the sunshine, not Boscombe.
"Despite the unfortunate difference in temperature, I am sure the festive period will be just as much fun in Dorset."
Senior lifeguard Mr White added: "We'd suggest anyone planning to go into the water at this time of year ensures that they are fully prepared with the appropriate clothing and equipment for the conditions, as the water is extremely cold."
The only other place to have year-round cover is Sefton beach in Merseyside, as RNLI lifeguards normally operate on beaches only until autumn.
RNLI volunteer lifeboat crews will also be on standby across the Dorset coast.
An RNLI spokeswoman said: "Over the festive period in 2009, RNLI volunteer lifeboat crews at the 35 stations across the South West launched 26 times and rescued 19 people in the period between 23 December and 1 January."
The surf reef, which was built to enhance waves using 55 sand-filled "geotextile bags", has been criticised for not working properly.
Bournemouth Borough Council has agreed a "refinement plan" with the reef's New Zealand-based builders, ASR Ltd, to extend the ride length of the waves.
The improvements could be complete by spring 2011.
Related Internet Links
The BBC is not responsible for the content of external sites.