Poole council risk assessment 'flawed' over walk death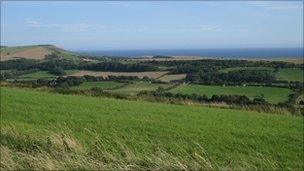 Risk assessments for a council-led walking group in which a man with learning difficulties died were flawed, a report has found.
The 43-year-old man, who has not been named, died in July 2008 on the walk supervised by Poole Borough Council.
The local government ombudsman said the council failed to identify "obvious risks" and also criticised how it dealt with the victim's family.
Poole council said improvements had been made and it would pay costs.
The victim has been referred to throughout the case as "Mr Clark", rather than by his real name, for legal reasons.
A post-mortem examination found Mr Clark had an undiagnosed heart condition and had suffered a myocardial infarction some 24 hours before he died.
The coroner decided Mr Clark died of natural causes and declined to hold an inquest.
Mr Clark's family had complained the council failed to properly assess the risk of the walk, on Swyre Head in the Purbeck Hills, and also that he was not properly looked after.
They also believed the death may have been precipitated by the strenuous nature of the walk and said the way they were told of his death and the way the council responded to their inquiries was insensitive.
In the report the ombudsman, Jane Martin, was concerned about the appropriateness of the route of the walk and found the council "failed to identify at all some obvious risks which were included on the council's own list of factors to be considered".
She said: "In light of the coroner's conclusions there can be no suggestion that any fault identified in this report caused [the client]'s death… However, I consider the council's maladministration caused the family's distress to be greater than it would have been."
Poole council, which has since carried out a review, agreed to pay Mr Clark's family £1,500 in recognition of their additional distress and £500 for their time and trouble in bringing the complaint.
John Dermody, head of council adult social care services, added: "The council fully accepts the findings of the ombudsman's report and recognises that the risk assessments carried out prior to the incident were inadequate.
"However, as the ombudsman concluded, there is no suggestion that any fault identified in the report caused the very sad death."
Related Internet Links
The BBC is not responsible for the content of external sites.