Bournemouth Imax building to get rooftop terrace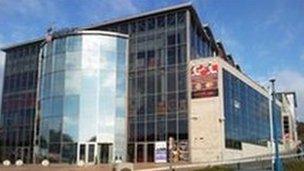 A planning application has been submitted to reduce the height of a waterfront building in Dorset and create a rooftop terrace on it.
The council plans to lower the Waterfront building in Bournemouth, which houses restaurants and a former Imax cinema, to improve sea views.
Plans for a permanent attraction on the site have been put on hold until market conditions improve.
The interim measure is expected to cost between £1.5m and £2m.
If planning permission is granted by the planning board in February work could begin as early as March 2011, Bournemouth Borough Council said.
The back of the building will be reduced to less than half its existing height, providing clearer views of the coast and the Purbeck hills.
Council leader Peter Charon said it was the public's "number one wish" to see the height of the building reduced.
"With these interim proposals we will create a building that is much more attractive, opens up the sea views and brings the building back into public use at the earliest opportunity.
"We want to give the public improved views and what better way to do this than by creating a public space on the rooftop with a fantastic, uninterrupted viewpoint across the Purbeck hills and Pier Approach."
Related Internet Links
The BBC is not responsible for the content of external sites.