GB sailing team train in Weymouth for Olympics 2012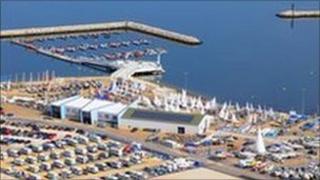 British sailors are beginning intensive training in Weymouth and Portland in Dorset where the sailing events at next year's Olympic Games will be held.
The team is gathering at the Weymouth and Portland National Sailing Academy to get back into shape after the Christmas holidays.
Many other nations' teams are also set to train at the centre over the course of the year.
John Tweed, chief executive, said: "It's a very exciting time."
He added: "The British Olympic team will starting a period of fairly intensive training, getting them back after the festivities and really getting them back out on the water and doing work on strength and conditioning and nutrition.
"We've also got contracts with lots of overseas teams so that they can come and train at the venue and spend some time there and get to know the waters better."
The Olympic village at Osprey Quay was the first site for the 2012 Games to be completed in November 2008 and will host up to 400 international athletes.
Up to 50,000 visitors are expected to turn out to Weymouth and Portland to watch the sailing events during the Olympic and Paralympic Games in the summer of 2011.