2012 Olympics Weymouth beach TV screen approved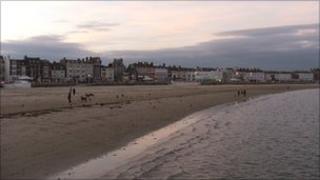 A plan to erect a large screen at Weymouth Beach so people can watch the Olympic Games sailing events that will be held there is to go ahead.
Nothe Gardens will also be used as an official Olympic spectator ticketed venue for viewing the events between 27 July and 12 August 2012.
The request was made by the London Organising Committee of the Olympic and Paralympic Games (LOCOG).
LOCOG will be responsible for crowd security, the council said.
Councillors approved the proposal at a management committee meeting on Tuesday.
Funding for the Weymouth beach venue will come from the £1.5m allocated to Weymouth and Portland Council to deliver additional services and facilities for the 2012 games.
50,000 visitors
Councillor Howard Legg, portfolio holder for partnerships and special projects, said: "When making the decision, councillors took into consideration the fact that the LOCOG will be able to marshal the area and provide facilities needed to make the event safe and enjoyable for the viewing public.
"This will avoid local taxpayers having to foot the bill for any costs that may be incurred as well as ensure that relevant expert event management skills are available."
Up to 50,000 visitors are expected to watch the sailing events at Weymouth and Portland during the Olympic and Paralympic Games in 2012.
Meanwhile, British sailors have begun gathering at the Weymouth and Portland National Sailing Academy to begin intensive training after the Christmas holidays.
Other nations' teams are also set to train there over the course of the year.
The Olympic village at Osprey Quay was the first site for the games to be completed and will host up to 400 international athletes.