Legal threat over West Dorset council offices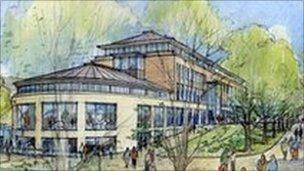 Campaigners in Dorset say they will mount a legal challenge against plans by a district council to spend millions of pounds on a new building.
Conservative-led West Dorset District Council is planning to build a new £10m headquarters on a Dorchester car park.
It says the new offices, in Charles Street, will be cheaper in the long run, saving the council about £200,000 a year in running costs.
Residents are now trying to raise money for a judicial review.
The council received more than 250 letters of objection to the scheme and in April 2010 more than 2,000 people voted against the plans in a town poll organised by the Lib Dem-led town council. Fewer than 160 people were in favour of the new building.
Campaigner Sarah Wilkinson said the district council should act in the spirit of the government's localism bill, which aims to empower communities to make decisions.
She said: "I actually spoke to the Conservative-controlled council and suggested that perhaps, in light of this new legislation that has been put in place on localism, they might like to pause and let it come into effect so that they could take into account the 2,000 people that voted in Dorchester against these new offices."
West Dorset MP Oliver Letwin said: "The idea is that the costs of borrowing that £10m will be more than offset by the savings that they are making in the running costs.
"Of course, the issue here is not how much you spend or how much you save, it is whether the savings exceed the spending and, in this case, I'm convinced they do, having looked at all the figures."
Related Internet Links
The BBC is not responsible for the content of external sites.