Dorset Wildlife Trust launches shallow sea study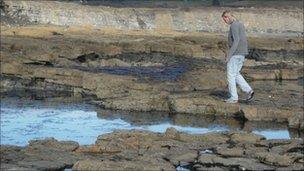 A Dorset wildlife charity is launching a three-year study of the coast and is enlisting the help of volunteers.
The Welly Zone project, organised by the Dorset Wildlife Trust, aims to study shallow water habitats and the species that rely on them.
Volunteer groups will take part in an identification and training session before beginning the survey.
The study, which will look between the high water mark and shallows accessible by foot, will begin in March.
Peter Tinsley of Dorset Wildlife Trust said: "We are concerned that this large area, stretching right along our coast, may lose out on protection.
"For example, the proposed new marine Special Area of Conservation for reef habitats from Studland to Portland is not expected to extend above the low-water mark, despite the rocky reefs and their wildlife continuing across the sea-land boundary onto the shore."
This is something everyone can do­ whether out walking your dog or just for days at the beach this summer. All you need is to come to one of our training sessions and a pair of wellies."
Related Internet Links
The BBC is not responsible for the content of external sites.