Wireless bus time signs installed in Poole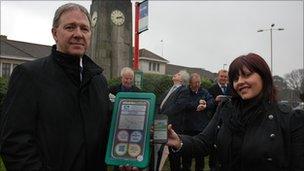 New signs at bus stops in Dorset have been installed which wirelessly connect to mobile phones to give up-to-date travel information.
Poole council believes it is the first authority to use the technology, which automatically connects with phones.
Users then access the Traveline website which gives updates on how buses are running through satellite tracking.
The signs are on trial at 10 main bus stops in the town but could be extended if they prove successful.
Councillor Ron Parker, member for transport, said: "It is very exciting that Poole can be the first local authority to introduce this innovative new technology.
"The [previous] Text 4 Times service has proved extremely popular since it was introduced in 2007 and I hope this service will be just as successful."
Connecthings, a company based in Paris, has provided the technology.
Related Internet Links
The BBC is not responsible for the content of external sites.