Dorset wind turbine plan recommended for approval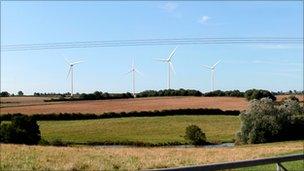 Planners have recommended a revised application to build four wind turbines in north Dorset be approved.
In 2009, councillors rejected an application from Ecotricity to build six 394ft (120m) turbines in Silton.
Their ruling went against their own planning officer's recommendation to approve the turbines, which campaigners said would be noisy and too near homes.
Ecotricity said it was pleased with the new recommendation. Save Our Silton action group said it was disappointed.
James Lytton-Trevors, the North Dorset District Council planning officer responsible for the report, told BBC News: "The recommendation is to grant planning permission subject to conditions.
"There is some visual impact on the landscape but the benefits of renewable energy outweigh the impacts that have been identified."
Mike Cheshire, spokesperson for Ecotricity, said: "We're obviously pleased that, for the second time, North Dorset District Council has evaluated our application against the UK's strict planning regulations and officially recommends that it is approved.
"We've listened very carefully to local concerns, and adapted the proposal to four windmills from six as a result."
Save our Silton (SOS) has argued that the new application "does not address the impact on the landscape, the proximity to houses and the noise".
It said it would present its case against the application at a public meeting of the local authority's development control committee, at the Riversmeet Community Centre in Gillingham on 1 March.
Chris Langham, chairman of SOS, told BBC News: "We are disappointed but we are not surprised.
"The visual impact [on the landscape] will be enormous.
"We support renewable energy but this windfarm would generate well below the national average, our experts say."
Ecotricity says the nearest turbine will be more than 1km (1,100 yards) away from Silton village.
Related Internet Links
The BBC is not responsible for the content of external sites.