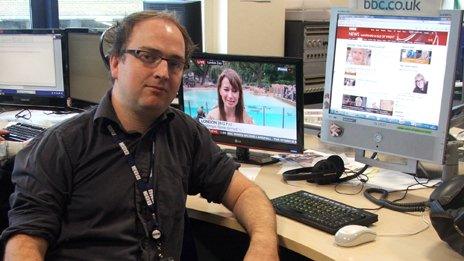 BBC News Online reporters are based in newsrooms across the South working alongside radio and TV colleagues to deliver the best local, national and international news relevant to you.
Let us know if you have information or pictures about news where you live.
Breakfast in Dorset with Steve Harris 6.30am to 9am on 103.8FM.
Office number: 01305 262512
Travel hotline: 0345 30 40 961
Text number: 81333 with the word DORSET before your message (for SMS messages, videos and photos). When you text 81333 you will be charged at your standard message rate.
Email - south.newsonline@bbc.co.uk
Follow Dorset news on Twitter or send us a tweet.
Find our stories on Facebook here.
For stories from our network of BBC online reporters across England follow BBC News England on Twitter.
To contact South Today email south.today@bbc.co.uk
To contact your local radio station:
BBC Radio Solent radio.solent@bbc.co.uk
BBC Radio Oxford oxford@bbc.co.uk
BBC Radio Berkshire radioberkshirenews@bbc.co.uk