Dorset's children's services makes cuts to save £5.1m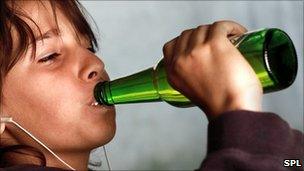 A council which stopped funding a scheme supporting vulnerable families says its children's services must save £5.1m over the next year.
For the past 15 years Dorset's Waves project in Weymouth has supported more than 400 children, tackling issues such as bullying, drugs and alcohol abuse.
The Children's Society, which set up Waves, hopes to run "minimal service" when its contract runs out on 31 March.
The Tory-led county council is also to axe up to 120 children's services jobs.
The posts are among the 500 the local authority first announced would go in December last year.
Redundancies 'regrettable'
County council staff will also have to take 12 unpaid leave days under plans to save £55m by 2013/14.
The bulk of the savings (£31.1m) will be made in 2011/12.
Toni Coombs, the authority's cabinet member for children's services, said: "We've lost 10% (£5.1m) of our children's services budget as part of the government's spending review.
"The county council provides a wide range of support services covering both education and social care including early years' support, children in care, child protection, adoption and fostering, youth services, and support for children with disabilities special educational needs.
"We are looking at all of our services and, regrettably, are having to make 120 children's services staff redundant over the coming months."
She added: "We've tried our best to minimise our cuts to the voluntary sector and will still be spending over £5m in voluntary sector contracts to support children across Dorset."
Waves received a letter from the local authority last Thursday confirming its contract would not be renewed or extended.
Earlier, the scheme's programme manager Roy Koerner said: "The repercussions of this decision are likely to be felt by the hundreds of vulnerable families and children we support."
Former Children's Commissioner for England, Professor Sir Al Aynsley-Green who recently visited the St Mary's Street-based project, told BBC News: "Waves has been giving a lifeline to young people and families in great distress."
However, he added that he had "great sympathy" for the council which he said had been "put in an intolerable position making very difficult decisions at break-neck speed".
Related Internet Links
The BBC is not responsible for the content of external sites.