Poole to Cherbourg ferry service resumes on trial basis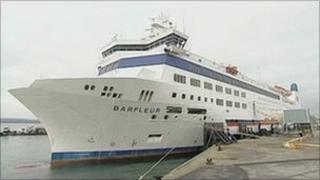 A cross-Channel ferry service between Dorset and France, cancelled last March, has resumed on a trial basis.
Operator Brittany Ferries said the revival of the route between Poole and Cherbourg was only until October, when it would assess its popularity.
The revived route, on the Barfleur ferry, will carry 450 people to make it cheaper to run, about 50% of capacity.
The service had been losing money since 2003 and the firm had been unable to sell the route to another operator.
Steve Warner, general manager of Brittany Ferries in Poole, said the number of passengers including freight drivers was being limited on the new service to cut the number of crew and therefore keep costs down.
"We had no choice to withdraw her last year because the numbers weren't stacking up, but we've altered the balance between passengers and freight, which will make her more economic to run," he said.
The cancellation of the loss-making service last year had the knock-on effect of 60 job losses for workers at Poole Port, as well as further job cuts at Brittany Ferries.
The first departure of the resumed service left from Poole at 0830 GMT.