Diocese appoints new Archdeacon of Bournemouth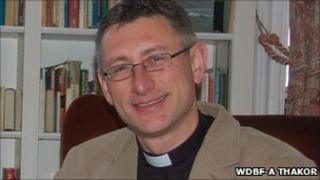 A new Archdeacon of Bournemouth has been appointed by the Diocese of Winchester.
The Reverend Dr Peter Rouch, who is currently a priest in Miles Platting in Manchester, will be one of two archdeacons in the Anglican diocese.
He will serve Bournemouth, Chandler's Ford, Christchurch, Eastleigh, Romsey, Southampton and the New Forest.
He will also be part of the Bishop of Winchester's team and takes up his new post in June.
Dr Rouch, 44, holds degrees from both Oxford and Cambridge Universities and a doctorate from Manchester University.
Speaking of his new role, he said: "I am hugely grateful to God, the Diocese of Winchester and also Bishop Michael for the call to serve as Archdeacon of Bournemouth at a challenging yet very exciting time in the life of our church.
"From my past I bring experience of ministry and other work in many different locations and settings, and also the crucial lesson of the need to both listen to and learn from others both inside and beyond the wider church.
"I look forward to developing my ministry in east Dorset and Hampshire together with the churches and communities of the archdeaconry."
'Lively Christian'
Dr Rouch is a keen walker. He also plays the guitar and the mandolin, and describes himself as a "very amateur tennis player".
He will move to a new home in Chandler's Ford with his wife Tracey and daughters Rebecca, Kezia and Paris.
The Right Reverend Michael Scott-Joynt, Bishop of Winchester, said: "I am delighted about the appointment of Reverend Dr Peter Rouch as the next Archdeacon of Bournemouth.
"He will bring a lively Christian mind and a different experience to the bishop's staff, to the diocese, and to the archdeaconry where he will join Bishop Jonathan, the Bishop of Southampton.
"I am only sorry that I shall not myself have the pleasure and the stimulus of serving with him."
A service of Induction and Welcome will be held for Dr Rouch at Winchester Cathedral at Evensong on 5 June.