Dorchester Bowls Club badly damaged by fire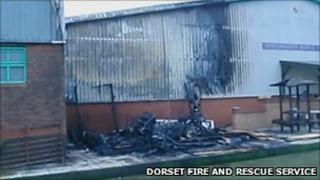 A bowls club in Dorset has been badly damaged after a fire broke out in the early hours.
More than 40 firefighters were called to tackle the blaze at Dorchester Bowls Club in Armada Way.
The fire started in a shed just after midnight and spread to the club's changing area and storeroom which have been damaged by smoke.
Fire investigators and Dorset Police are examining the area.