Lyme Regis coast protection works approved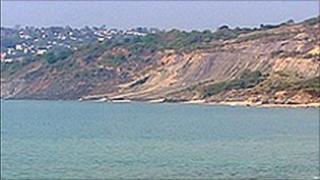 Work to stop part of a Dorset coastal town from crumbling into the sea has moved a step closer after the Environment Agency approved the plans.
More than 140 properties in Lyme Regis would be destroyed in the next 50 years and hundreds more are at risk unless coast protection works are carried out.
West Dorset District Council has drawn up plans which have now been given technical approval from the agency.
Planning permission has already been given and work is due to start in 2013.
The Environment Agency's seal of approval means the council can appoint consultants to produce designs and carry out work to minimise the environmental impact.
A Defra grant towards the £21m scheme is expected to be approved when the preliminary work is complete and a contractor has been agreed.
The work, which includes 390m of sea wall, would protect the eastern part of the town, where some gardens and properties have already been lost over the cliff.
The work would also safeguard the A3052 Charmouth Road, the main route into the town. Engineers estimate 900m of the road would be lost to erosion if the cliff was not stabilised.
Dorset County Council is contributing up to £4.3m towards the cost of the project.
Other areas of the town's seafront and cliffs underwent stabilisation works in 1995 and 2007.
In May 2008, about 400m (1,312ft) of cliff slipped between Lyme Regis and Charmouth, exposing an old landfill site.
Described as the "worst landslip for 100 years" in Dorset, it closed a beach.
The earth movement, the length of four football pitches, affected part of the 95-mile (153-km) Dorset and east Devon Jurassic Coast.