Warning over Dorchester commercial premises 'arsons'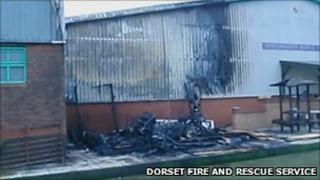 A suspected arson attack on a Dorset bowls club was the third suspicious fire at premises in Dorchester in recent weeks, the fire service said.
More than 40 firefighters tackled the blaze at Dorchester Bowls Club in Armada Way early on Wednesday.
It comes after a fire at Stag Fencing in Alington Road on 19 January and a blaze at Dorset Shredding and Waste Paper on 20 February.
Owners have been urged to take extra care when closing down for the night.
'Cost £14,000'
Steve Waller, district commander for Dorset fire service, said: "[Owners should] ensure that waste or recycling bins are emptied regularly and kept well away from the main buildings.
"Also ensure that everything is safe and secure when you leave, such as windows and doors.
"Enable CCTV and security lighting wherever practical and make sure that you do not leave any accelerants such as canisters or flammable materials close by."
Police and fire officers are due to meet later to discuss a plan to tackle the issue.
Insp Les Fry, from Dorset Police, added: "We are pursuing all lines of investigation and are keeping an open mind as to any links between these incidents.
"Each will be independently investigated and any conclusions drawn following those inquiries."
The fire service said the three fires had cost it up to £14,000.