Marina 'for rich will ruin Poole Harbour'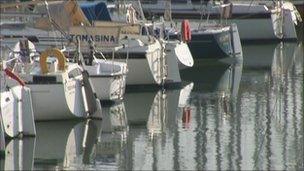 Residents living near the site of a proposed £25m marina in Dorset are campaigning to stop it being built.
Poole Harbour Commissioners has applied to build 950 berths, a business park, pontoons and a cruise ship berth alongside Hamworthy Park in Poole.
Residents claim the marina will be for "rich people" and will spoil the area for everyone else.
Harbour bosses said the scheme would create 300 jobs and bring an extra £25m into the local economy.
Resident Mary Parsons, chairman of Lake Residents' Association, said: "We'll be looking at a harbour wall.
"We'll be looking at a road along the top of it with traffic - and that will be permanent and a loss to everybody."
Keith Chick, chairman of Friends of Hamworthy, said: "Why should just a few rich people be allowed to ruin it for the majority of people who come to this park to enjoy it for what it is?"
The Poole Harbour Commissioners said it was aware of residents' concerns and said a full consultation would take place.
Chairman Richard Lacey said the new marine centre was part of a master plan, looking at the future of the harbour for the next 25 years.
He said, as well as creating jobs and boosting the local economy, it would also provide local facilities, including an education centre.
If the plans are approved, the first boats could be moored at the new marina by 2016.
Related Internet Links
The BBC is not responsible for the content of external sites.