Chemical leak sparks evacuation at Wimborne hospital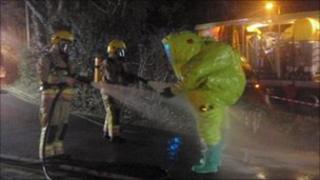 A community hospital in Dorset had to be evacuated and patients transferred following a chemical leak.
Fire and rescue crews were called to Victoria Hospital in Wimborne at 1800 GMT on Friday and wore specialist gas-tight suits to investigate.
All elderly patients were evacuated and transferred to St Leonard's Hospital along with staff. No-one was hurt.
The cause of the leak found to be an ammonia coolant leaking from a fridge which was removed five hours later.
Nursing staff alerted the emergency services after noticing an unfamiliar smell.
Fridge failure
Group manager Phil Head, of Dorset Fire and Rescue Service, said given the manifest of chemicals public safety was "paramount"
"The defective fridge was removed to a safe place by firefighters in gas tight suits wearing breathing apparatus," he said.
"The safety measures introduced to successfully address this incident were proved to be correct and no persons were placed at risk."
Crews left the scene at about 2330 GMT.
Preparations are being put in place to allow the patients to return the hospital on Monday and the area has been made safe.
Tim Archer, chief operating officer with NHS Dorset, said: "We are still investigating to get to the absolute root cause of it but there was a chemical reaction as a consequence of a fridge failure.
"Everybody is safe and well. The decision to move them was absolutely the right decision to make.
"We are very proud of the way both the patients and staff responded."