Nest boxes for rare tree sparrow in north Dorset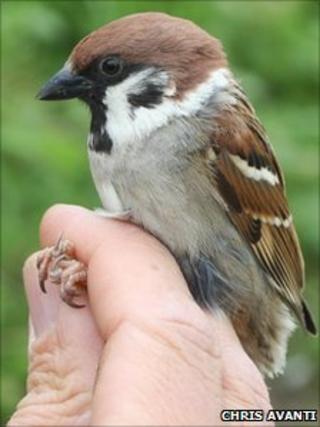 Special nest boxes are being placed in north Dorset to encourage rare tree sparrows to breed there, the Dorset Wildlife Trust says.
The tree sparrow is red-listed because of concerns over its population decline.
It has a foothold in north Dorset but "still needs help", a spokeswoman said.
Smaller and shyer than its urban relative the house sparrow, the tree sparrow can be distinguished by its brown head.
The bird has suffered from loss of habitat due to changes in farming practices.
Two pairs of tree sparrows were recorded breeding in north Dorset in 2005, after a gap since the last breeding record in 1996.
By 2008 numbers had increased to three pairs.
'Boost chances'
Dorset Wildlife Trust and Dorset Bird Club have joined forces to provide special nest boxes to encourage the "vulnerable species" to spread into new areas and increase its population.
Steve Davis, Dorset Wildlife Trust's volunteering programme manager, said: "It is fantastic news that tree sparrows are nesting in north Dorset so we are doing everything we can to boost their chances of increasing.
"Our volunteers were delighted to help with the construction of the specially-designed boxes and we hope to see some of them in use this spring."
Dorset Bird Club paid for the materials to make the boxes and members have sited the boxes in a secret, protected location close to the known nesting area.
The boxes will be monitored over the coming months to assess whether they have been successful.