Book uncovers Dorset's first known tribe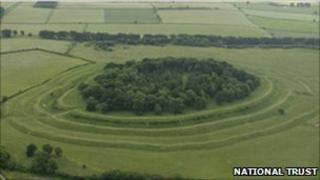 A Dorset author has fresh evidence to suggest that Dorset's first-known tribe was made up of independent baronies and not of a unified state.
The tribe of the Durotriges was listed by the Greek geographer Ptolemy in the 2nd Century AD.
Dr Martin Papworth is the author of The Search for the Durotriges: Dorset and the West Country in the Late Iron Age.
He said: "Different parts of Dorset were occupied by different people."
He added: "In Dorchester crouch burials with offerings indicated a belief in the afterlife, while at Hod Hill a different culture had human and animal bones thrown together into pits like rubbish.
"These distinctive cultures made an alliance together and by the eve of the Roman invasion they were all using the same coinage.
"While they traded with each other, this was still a loose confederacy of different tribes.
"In West Dorset, in places like Lyme Regis and Marshwood, there is no evidence of the people there having used the Durotrigan currency.
"These areas weren't part of the Durotrigan empire."
Roman Conquest
Dr Papworth, an archaeologist for the National Trust, has lived in Dorset since the 1970s and said since then had always been "fascinated" by the Durotriges.
"The Durotriges lie on the brink of history. They are the earliest named people of South Somerset, South Wiltshire and Dorset," he said.
Traditionally it has been believed that the Durotrigans formed an Iron Age tribe whose territory included Dorset and parts of neighbouring Somerset, Wiltshire and Hampshire.
Their hill forts are amongst the largest in Britain.
"Many of their great fortress homes can be visited today. Some of the best, like Hod Hill, Badbury Rings and Eggardon, are freely accessible and cared for by the National Trust," Dr Papworth said.
He said in 43-44 AD those fortresses were involved in the Roman Conquest, when the Romans fought against the Durotrigan people to claim the Battle for Britain.
Dr Papworth said: "The Romans had to fight the Durotriges hill fort by hill fort. There is certainly evidence of conflict - like ballista arrows found inside some of the forts, as a show of strength."
He said the people named by the Romans as Durotriges adapted to the Roman culture, becoming part of the Romano-British.
Dr Papworth has explored their culture prior to invasion in his book, which took him 10 years to write.