Dorset Willdlife Trust celebrates 50 years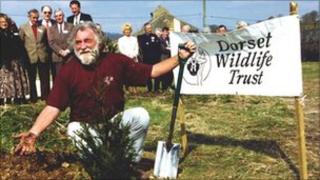 Dorset's largest nature conservation charity is celebrating its 50th anniversary.
Three hundred and six people attended the first meeting of the Dorset Naturalists' Trust, now the Dorset Wildlife Trust (DWT), on 28 March 1961.
The trust, which was renamed in 1994, now has 25,000 members, 42 reserves and represents over 1,300 hectares of wildlife havens.
DWT acquired its first reserve at Holway Woods, Sherborne, in 1965.
This was led by the then honorary secretary and wildlife champion Helen Brotherton, who died in 2009.
Celebrity help
Many other pioneering conservationists have been involved with the work of DWT over the years.
In 1985 David Attenborough helped build the causeway to the Macdonald Hide on Brownsea Island; and David Bellamy planted a tree to celebrate the opening of the trust's headquarters at Brookland's Farm, Forston in 1995.
More recently, Kate Humble and Bill Oddie presented BBC Autumnwatch from Brownsea Island in 2008; and in 2010 Simon King was at Kimmeridge Bay for BBC Springwatch.
DWT's reserves range from West Bexington in the west of the county to Sopley Common in the east.
These include rare and precious wildlife habitats from heathland to flower meadows, to wetlands and ancient woods, said a spokesman.
Dr Simon Cripps, DWT's chief executive, said: "Conservation in the new millennium takes in much of the wider landscape outside the reserves - with farmers, fishermen, communities and wildlife gardeners all playing their part."
DWT has joined other wildlife trusts around the country in campaigning for the protection of the UK's seas.
Their campaign was followed by the Marine and Coastal Access Act 2009, which promises marine reserves by 2012.
Fiona Sansom, supporter development manager at DWT, said: "We want to invite everybody in Dorset to join in with our celebrations, because the natural heritage of our wonderful county belongs to us all.
"We have asked people to raise £50 - one for each of our 50 years - and already we have had pledges ranging from people going vegetarian, to putting on concerts or donating for every wildlife species they photograph."
The trust has a target of 500 pledges it wants to reach by the end of the year.