Ferndown memorial unveiled to honour local heroes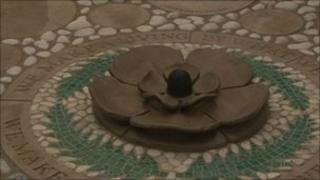 A memorial has been unveiled in a Dorset town to honour people who have made an impact on the community.
The sculpture in Ferndown bears 12 names, including marine Lt John Thornton, killed in Afghanistan three years ago.
After his death, residents asked the mayor if a memorial could be created.
The idea became a community tribute which is also carved with the name of Charlotte Reed, 18, who had a long battle with cancer.
Other names include MBE Phyliss Dry, award-winning horticulturist Janet Flude and former mayors Pat and Ros Young.
There are also a number of empty spaces on the memorial for other residents to be remembered.
Volcanic rock
Family and friends gathered in Ferndown's Millennium Park garden to see the circular sculpture unveiled on the anniversary of Lt Thornton's death.
At the centre of the memorial, a bronze rose has been set with a piece of volcanic rock from Afghanistan and surrounded by carved Purbeck stones.
The sculpture took three years to put together by local craftsmen and volunteers, including Lt Thornton's father, Pete Thornton.
He said: "It does show that out of something really horrible, something very, very positive can grow."
The memorial was created by local sculptor Gerry Clarke. He said: "I've designed it in concentric circles so that as time progresses we can add to it. It will grow organically over the next 100 years."