Historic Dorset church bells need restoration funds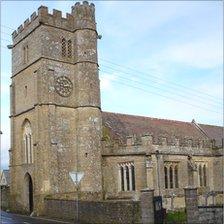 The bells of a Grade I listed church in Dorset may have to stop ringing unless restoration funding is found, its warden has said.
The work to replace the unstable framework of five bells at St Giles Church in Chideock, and to add a sixth bell, is expected to cost £80,000.
One of the bells, cast in 1640, is under a preservation order.
The newest bell dates to 1887 and was cast for Queen Victoria's Golden Jubilee.
Ms Cowell said: "The bells are only rung very occasionally now because the whole frame moves about.
"It's better when it's been raining because the wood swells a little bit, so it doesn't sway about so much.
"But it is dangerous and we do need to replace the frame. We'd like to put the order for the work in in the summer."
The framework was last restored in 1887.
Fortnightly inspections are carried out to ensure that it is still safe.
The church has more than 10 bell ringers including five trainees.
"Without the restoration work they'll be out of a job and it's very difficult to find bell ringers these days," Ms Cowell said.
"We'd hate for the church to lose them and of course it would be terribly sad if we couldn't hear the bells anymore."
She added: "The frame will be taken down along with three of the bells - the bell cast in 1640 has to remain where it is because of its preservation order.
"A new frame will be made to house all five current bells and a sixth one, which we bought from a disused church in Shropshire.
"We wanted a peel of six bells because you can get a bigger variety of rings.
"The bells will then be reassembled and placed back inside the church."
Local fundraising events are being held to raise the cash needed to carry out the work.
A local shopkeeper has donated 300 tubes of sweets to the cause.
Ms Cowell said: "We are distributing the tubes to local residents and asking them to fill them up, once they're empty, with 20p pieces, and return them to the shop for us to collect.
"You can get just over £12 in each tube."
The church committee, which has so far raised £5,000 for the cause, has also applied for grant funding from various bodies, says Ms Cowell.
She added: "We plan to reduce the £80,000 figure to £70,000 by using local volunteers to help dismantle the bells."
The committee believes it should be possible to raise about £40,000 from grants and other funds. This leaves about £30,000 to be raised by the village.
Related Internet Links
The BBC is not responsible for the content of external sites.