Four charged after guns discovered in Dorset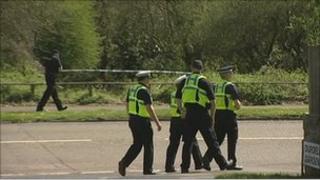 Three men have been charged with robbery following a raid in Dorset where guns were stolen.
Dorset Police said one of the men, along with a fourth suspect, would also face firearms charges.
The charges relate to a robbery in Bloxworth on 24 March and the subsequent discovery of firearms and ammunition in Bournemouth.
Officers arrested ten people following the discoveries on Kinson Common and in the Redhill area of the town.
One man remains in custody while a further five people, including one woman, have been released on bail.