BBC Springwatch's Easter Special at Portland Bill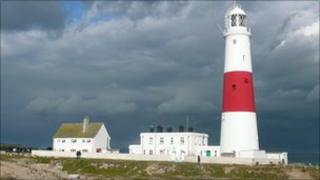 One of Dorset's key locations for monitoring migrating birds is hosting the BBC Springwatch Easter Special.
The Isle of Portland stretches 6 miles (9.5km) into the English Channel and is one of the first landing points for birds which have flown from Africa.
Presenter Kate Humble said: "This is a fantastic resource - the physical frontline of bird migration."
The programme will examine the effects the harsh winter has had on nature with a new Springwatch survey.
Detailed monitoring
The Easter special has been recorded at Portland Bill bird observatory where bird movements have been monitored on a daily basis for the last 50 years.
The records have provided an insight into changes in the climate over the years with different types of birds spotted in milder conditions.
Presenter Chris Packham says this spring's weather has been ideal for nature lovers.
He said: "The dry March and sunny April has been fantastic for getting out and about and there's been lots of changes in terms of how it's impacted our wildlife."
"There is a flux of different species - the first swift, swallows, black caps, it's an on-going process," he added.
Portland usually also sees "vagrants" - unexpected individual birds which have been blown off course.
The Easter special is the final show for Springwatch producer Stephen Moss who is retiring from the BBC after nearly 30 years in natural history programming.
"It's reality TV - we genuinely don't know what is going to turn up. The great thing is the anticipation and excitement," he said.
Springwatch Easter Special is on BBC Two, Easter Monday at 2000 BST and on BBC iPlayer.