Dog alerts Highcliffe family to house fire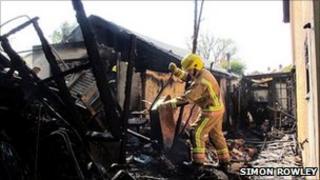 A Dorset family is lucky to be alive after being woken by their dog during a fire at their home.
The blaze destroyed the property in Gordon Road, Highcliffe, which was not fitted with a smoke alarm.
Crews were called to the fire, which is believed to have been started by an electrical fault, at about 0815 BST.
Dorset Fire and Rescue Service said at its height the flames reached up to 30ft (9m).
A spokeswoman said: "They were very, very lucky."
The family - all adults - has been put up in a nearby holiday park.
It it not known how many of them were inside the property at the time of the fire.
A neighbouring conservatory was also damaged when the fire spread.
Watch manager John Lewis said: "When we arrived, the flames were 20 or 30 feet high already so we were straight into really aggressive firefighting from the start.
"I believe that the family dog had alerted the female occupant to the fire and she managed to make a call to us and everyone had got out safely.
"If they had had a working smoke alarm they would have been alerted to the fire much, much earlier.
"This means that we would have been called earlier and been able to save more of the home. "