Dorset lifeguard patrols begin early for royal wedding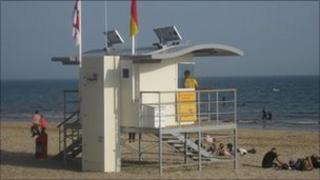 RNLI lifeguards will begin the summer season early on Dorset's main beaches due to the royal wedding.
Patrols will begin at beaches in Bournemouth, Poole and Weymouth on 29 April, a day early, to incorporate the special wedding bank holiday.
Lifeguards are currently undergoing pre-season training.
Boscombe East beach, where the troubled artificial surf reef has been built, is covered by RNLI lifeguards all year round.
Barry Heathfield, divisional lifeguard manager for Dorset, said: "Our lifeguards are busy with their two-week induction schedule, which ensures all are trained up to the same high quality.
"Topics include rescue theory and practice, as well as communication skills and first aid."
He said 95% of a lifeguard's role was "preventative, and we urge all visitors to visit the beaches and seek out the lifeguards to gain vital local knowledge, including tide times and any potential hazards to avoid".
RNLI lifeguards will patrol a total of 21 beaches in Dorset during the summer.
Season dates are staggered to take into account the number of beach users.