Swanage Railway embankment fires halt trains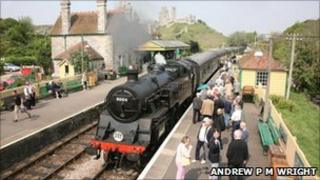 Two separate fires on rail embankment at the Swanage Railway in Dorset halted trains for two hours.
Firefighters were called to Corfe Castle railway station at 1315 BST where about 500 sq m (5,400 sq ft) of grassland was on fire.
Trains were halted between Harman's Cross and Corfe Castle.
As the fire was put out crews were called to east of Harman's Cross, where 200 sq m (2,150 sq ft) of grass was on fire, halting trains to Herston Holt.
Neither fire is thought to have been started deliberately.
The Swanage Railway runs from Wareham to Corfe Castle and Swanage.
The line was shut in 1972 and has since been restored by enthusiasts.
Steam trains regularly run on the line but in March 2009 a regular passenger train from London ran on the railway for the first time since 1972.
Swanage Railway carried more than 210,000 passengers in 2010.