Coastguard 'tombstoning' warning after Boscombe jump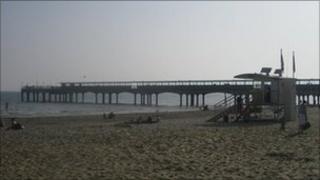 Coastguards are reminding people of the dangers of jumping into the sea from a height or "tombstoning" after a youth was injured jumping from a Dorset pier.
The young man landed in shallow water after jumping off Boscombe Pier at Bournemouth on Friday and was recovered by a police unit on the scene.
He was taken to hospital for a check up but was not badly hurt.
The practice of "tombstoning" often results in serious back and leg injuries.