Labrador dog rescued after Durdle Door cliff fall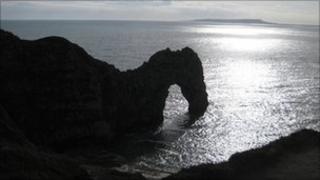 A black Labrador has been rescued by coastguards after falling over a cliff in Dorset.
Crews were called to Durdle Door on Friday when the dog fell on to a steep grassy slope five metres down a cliff.
Lulworth coastguard rescue team managed to bring the animal, called Dylan, to the top of the cliff and reunited it with its owner.
Coastguards renewed their plea to dog owners to keep pets on a lead when walking by the coast.
Coastguard watch officer Jennet Chisholm said: "The common incidents we see are where dogs have slipped or bounded over a cliff edge because they haven't anticipated the drop ahead.
"Owners will then risk their lives to rescue their dogs and our coastguard rescue teams often get called out to help.
"In the UK last year alone there were 227 coastal accidents involving dogs that required emergency assistance from coastguard's rescue teams, and last month a dog died after falling over the same cliff."
She added: "It can be tempting to let your dog walk off-lead, especially if that's what they are used to and they are well-trained, but accidents like this on coastal walks are not uncommon."