Sonar search for missing diver off Dorset coast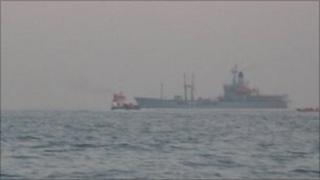 Specialist teams are to carry out 10-hour search for a missing diver who got into difficulties off the Dorset coast.
The 61-year-old man, an experienced recreational diver from Bristol, had been with a friend near the Lanes ground area of Lyme Bay on Thursday.
The alarm was raised when the other diver ascended from a 22m (72ft) dive after attempting to rescue his friend.
A 1km sq area of the dive site will be searched by marine divers and a sonar search and dive team throughout Sunday.
The diver who managed to raise the alarm was airlifted to a specialist unit in Poole for treatment. He has since been discharged.
Det Insp Stewart Dipple, of Dorset Police, said: "Our investigation into the circumstances of the incident leaves me to believe this was a tragic accident.
"Our thoughts go out to the missing diver's family at this distressing and difficult time.
"I would like to thank the dive buddy for all his efforts in trying to bring the missing diver to the surface despite the danger to himself."