Wimborne heathland destroyed by fire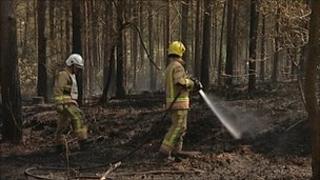 A large area of Dorset heath and woodland has been destroyed by a fire which was in danger of spreading.
Up to 60 firefighters tackled the blaze for six hours at Cannon Hill Plantation, near Wimborne, on Sunday.
About one-and-a-half hectares of trees and gorse were affected by the flames which fire chiefs said could have easily spread due to light winds.
The cause of the fire is under investigation but it is not believed to be suspicious.
Firefighters remained at the remote scene throughout Easter Monday damping down the area which was still smoking.
Station manager Stuart Tucker said crews had to move quickly as there were a number of dog walkers and mountain bikers nearby.
"When we arrived the fire was developing quite quickly and it was being fanned by fairly strong winds which were making the conditions extremely difficult for the fighters.
"It's a fairly large fire for this time of year.
"At the height of the fire it was travelling at some speed, we had to make sure members of the public were our of harms way."