Sonar search for missing diver off Dorset ends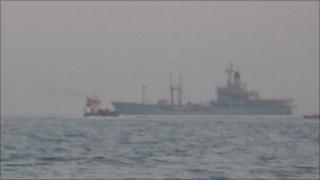 An extensive two-day underwater search for a diver missing off Dorset since Thursday has failed to locate his body.
Graham Packer, 61, an experienced recreational diver from Bristol, had been with a friend near the Lanes ground area of Lyme Bay.
The alarm was raised when the other diver ascended from a 22m (72ft) dive after attempting to rescue him.
Twenty-two search dives were carried out over Sunday and Monday around the dive site but nothing was found.
Police said the operation had been concluded.
The force's marine support unit and the Weymouth Chieftain dive boat used sonar equipment to investigate human-sized objects on the seabed.
'Family informed'
A police spokeswoman said: "Despite the thorough and detailed search of a large area over a protracted period, Mr Graham Packer could not be found.
"The size of the search parameters were extremely challenging due to the tidal nature of the area and the currents in the 72ft of water at the location.
"To extend the search beyond the square kilometre is an increasingly sizeable task with a decreasing chance of success.
"Despite the dedication and expertise of those involved in the joint operation, Dorset Police were sadly unable to find Mr Packer and the search was concluded."
Mr Packer's family have been kept up to date with the efforts and are being supported by police, the spokeswoman added.
Det Insp Stuart Dipple, from Dorset Police, said: "It is with great sadness that the search has been concluded without success.
"All of those involved in the joint operation were totally committed to locating Graham Packer and bringing him home to his family.
"The investigation into the circumstances of the incident continues."