Repair work on damaged Boscombe surf reef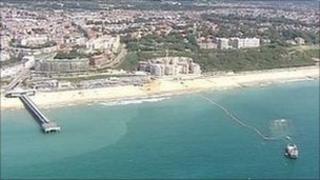 Repair work has been carried out on an artificial surf reef off Dorset after two sand bags were thought to have been damaged by a boat propeller.
The £3.2m underwater reef in Boscombe was closed in March after an inspection found changes to its shape.
Divers have repaired one of the bags while the other, which had become detached, was removed on Tuesday.
The reef remains shut while current flows, thought to have been altered due to the damage, are monitored.
ASR Ltd, the firm which built the reef, is also due to carry out further refinement work in the coming months.
The reef was created to enhance waves using 55 giant sand-filled bags, which are 740ft (225m) out at sea.
Bournemouth Borough Council has spoken to its insurers as it believes the damage to be accidental.
The reef opened in November 2009 after lengthy delays and running over budget, as part of the regeneration of Boscombe seafront.
It has been criticised for not working properly but many traders have argued it has added to the regeneration of the once-rundown area.
The council has withheld £150,000 from New Zealand-based ASR Ltd after a specialist report found the reef had not achieved all of its objectives.
It will pay £55,000 when refinement work is finished and a further £95,000 if the improvements are successful.
ASR Ltd has denied the reef failed and said it was only one of the criteria, the wave lengths, where it had not met the requirements.