Dog control orders planned for Bournemouth 'draconian'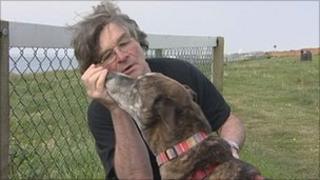 Plans to extend dog control orders in a Dorset seaside town have been called "unnecessarily draconian".
Bournemouth Borough Council has backed plans introduce more areas where dogs are banned or must be kept on a lead.
New powers to fine owners of uncontrolled nuisance dogs have also been approved by the cabinet.
However the Kennel Club and some local dog owners say the proposals go too far.
Lakes and ponds
Bill Titchen, resident and dog owner, said: "We're a persecuted minority.
"We're gradually losing our liberties and dog owners, and to some extent members of the public, are gradually being excluded from their own town and that's got to be wrong."
Existing rules regarding dog fouling, dog exclusion areas and dogs on leads are being renewed, but will include additional sites such as new children's play areas, ball courts, formal gardens and grazing paddocks.
However in addition to that, the council also wants a new set of orders introduced which give police and council officers the power to fine owners of dogs causing alarm or distress if they refuse to put them on a lead.
The plans will now be recommended to the full council and if approved would come into effect from 17 May.
The Kennel Club have dubbed the proposals "unnecessarily draconian" since they would ban dogs from all of the town's ponds and lakes.
Caroline Kisko, communications director, said: "Dog control orders are becoming more common as councils attempt to find ways to control dog fouling and rein in irresponsible dog owners.
Fixed penalty fine
"Unfortunately this often means responsible dog owners are also penalised and have to suffer restrictions.
"Whilst the Kennel Club does not oppose the use of dog control orders in certain situations - such as the exclusion of dogs from children's play areas - we believe that proactive methods should always be favoured over restrictions, and that limits upon dog walking should never be disproportionate to the problems faced."
Michael Rowland, parks policy manager at the council, said: "If your dog is under control and is not causing a problem then it's not going to affect you.
"If we are called out to a problem and someone doesn't put a dog on a lead, we can dish out a fixed penalty fine for those irresponsible dog owners."
Dog owners who breach the orders could face a fixed penalty of £50, or if prosecuted they could be fined up to £1,000.