Revisiting the old Weymouth Quay railway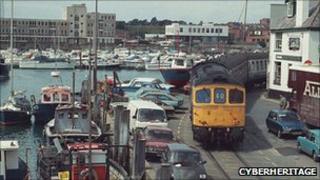 A Dorset railway line, included in a BBC social history project in 1986, is being revisited to explore how life in the area has changed.
The Weymouth Quay railway is one of 20 listings for the town centre in the Domesday project.
The line, which closed in 1987, transported passengers from Weymouth railway station to the ferry terminal.
Now, 25 years later, the archive can be explored online with users able to view pictures and update the information.
Domesday aimed to record a snapshot of everyday life across the UK for future generations and a million volunteers took part.
Tourist attraction
In 1986, Pam Whitmarsh took part in the Domesday project in Weymouth.
Of the Weymouth Quay railway she wrote: "When the train goes through Weymouth it can cause a big traffic jam, especially if the train is a long one because it blocks several main traffic routes.
"Sometimes when the train comes through some cars are parked in the way so the police and men have to move them by force."
Ms Whitmarsh added: "Most visitors think it is funny that the train goes through a busy part of Weymouth, usually twice a day to link with the ferry."
In 2009, Weymouth and Portland Borough Council voted to acquire the 150-year-old seafront track from Network Rail in a £50,000 deal.
It was part of a £135m plan to redevelop the Weymouth Pavilion site and build a new hotel and ferry terminal in time for the 2012 Olympics.
It was cancelled in September 2009 when funding fell through because the firm involved went into liquidation.
Olympic transport
At the time Councillor Howard Legg said the railway line would either be scrapped, preserved for future use or left as it is.
Tracks to the quayside remain and the route is still regarded as viable.
Enthusiasts had wanted to see it saved and used for transport for the Olympics.
One idea was to incorporate the track into a light railway system to serve spectators travelling to the sailing events on Portland.
Michel Hooper-Immins, a travel writer and train enthusiast, said reopening the line was a "wonderful opportunity" to take Olympic spectators to the seafront in 2012.
The council has said in the past that an Olympic transport network is not a viable idea. Now it says the future of the rails rests on what funds might be available.
Tim Westwood, Dorset County Council traffic manager, said:
"The lines are owned by Network Rail and, as the Highways Authority, the county council accommodates them.
"We currently have no plans for either the removal or reuse of the old train lines.
"We feel that they have an historic importance and, by being retained, they may possibly be used in the future for some form of leisure attraction such as an electric tram or similar."