Witchampton Tiger Moth biplane crash leaves two injured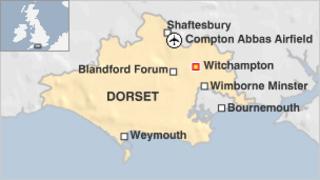 Two men have been seriously injured as a Tiger Moth biplane crashed in a field in Dorset.
The aircraft came down at Witchampton, between Wimborne Minster and Blandford Forum, at about 1445 BST.
About 30 firefighters attended the crash and the men were airlifted to hospital by a coastguard helicopter and an air ambulance.
An eyewitness said he thought the aircraft was doing aerobatics shortly before coming down.
Nigel Phillips, of Poole, said he saw the Tiger Moth crash from Wimborne St Giles.
"It was swirling around and we thought it was doing aerobatics," he said.
'Spinning around'
"It was just spinning around, they went down, head and nose down behind a ridge."
The plane came down 300m (980ft) away from Rowbarrow Lane, Witchampton.
The pilot, a local man, was taken to Salisbury District Hospital.
The passenger, a 26-year-old man from Poole, was taken to Dorset County Hospital in Dorchester.
A Dorset Fire and Rescue Service spokeswoman said it was believed the aircraft had taken off from Compton Abbas Airfield, near Shaftesbury.
The site of the crash had been sealed off and the Air Accidents Investigation Branch would investigate, Dorset Police said.
A spokesman for the investigators said: "The AAIB dispatched a team this afternoon to investigate the Tiger Moth incident in Dorset.
"It is impossible to say how long the investigation will take, they can take months.
"It will depend on what the investigators find when they get there.
"Sometimes they retrieve the wreckage back to headquarters in Farnborough and examine it in detail and speak to anyone involved and any witnesses."